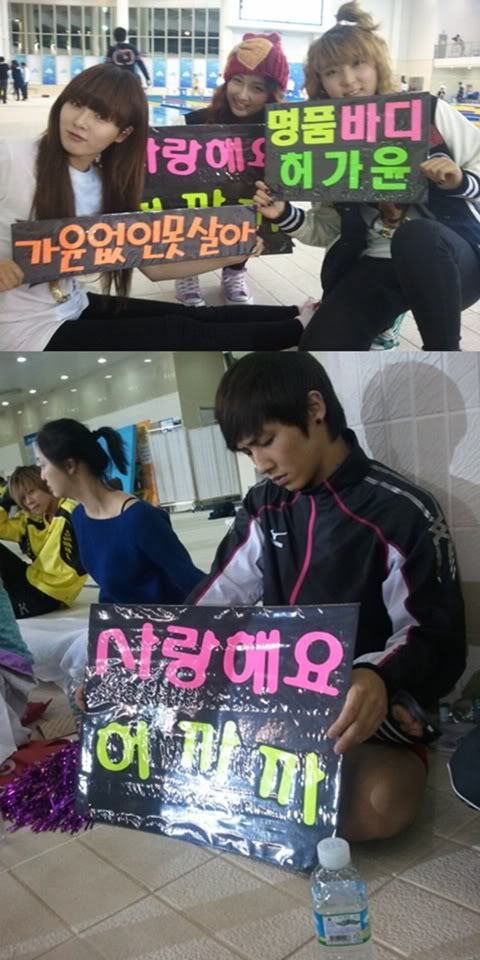 MBC's Lunar Year Special 'Idol Swimming + Championships in Athletics'
continues to garner more attention as curiosity arises from
Netizens
when
4Minute's maknae
,
Kwon Sohyun
, uploaded a picture of her with her 2 unnies,
Nam JiHyun
and
Kim HyunA
, holding different fanboards as they cheer
Gayoon
who has just been confirmed to be their representative for the swimming competition.
What made things more interesting is when Sohyun followed it with another picture. She revealed a photo of
MBLAQ's Lee Joon
wearing a tracksuit with striped sandals, while sitting on the floor holding the same fanboard that Jihyun held on the first picture she had uploaded. The board says:
"I love you Heo Kkaka!"
Sohyun tweeted,
"It seems a little forced but thank you for cheering us! ~keke. MBLAQ's recently released album is daebak~ keke! MBLAQ and 4Minute Fighting!"
Some of Netizens' reactions are the following:
" 'I love you Heo Kkaka?' isn't that Gayoon's nickname? Is he spearing us fans now ㅠ ㅠ"
"Joon oppa is 4Minute's fan? Blah Blah"
and
"I'm completely excited for the 'Idol Swimming Competition!' "
The pictures were taken during the private filming of MBC's New Years Special 'Idol Swimming' last
January 30, 2011.
Source:
NATE
credit dkpopnews
Reporting + Editing + Translating:
ashleylovesasia@4-minute.com